Sesquicentennial
News & Notes

---

Enlist Now for 150th Anniversary Reenactments!

With the Civil War Sesquicentennial at its halfway point, the 150th anniversary commemorations of the battles of Chancellorsville and Gettysburg will be upon us very soon. If you want to experience them as a member of the recreated 28th Massachusetts, enlist today!


---

Upcoming Civil War Events

From the wilderness of Virginia to the hallowed ground of Gettysburg to historic towns across New England, today's 28th Massachusetts honors the memory of the original regiment at reenactments, parades and living history encampments throughout the year. See our schedule for the 2013/ 1863 campaign.


Commonwealth Recognizes the Service & Sacrifices of the 28th Massachusetts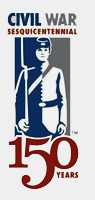 December 13, 2011, was the 150th anniversary of the 28th Massachusetts Volunteer Infantry Regiment being mustered into the Union Army, and Gov. Deval L. Patrick issued a proclamation marking the milestone.


---

Help the 28th Massachusetts Keep Irish Brigade History Alive

The recreated 28th Massachusetts is currently raising funds to establish a permanent memorial to the original regiment. With your support, we can make it happen!